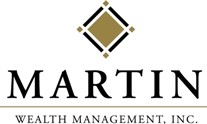 At Martin Wealth Management, Inc. we help affluent individuals and families to grow, manage, preserve, and transition their wealth, treating you with the same care and concern as if you were family.
Our consulting process includes customized allocation strategies, objective investment analysis, and an ongoing personalized review. Beginning with a thorough analysis of your aspirations, priorities and values, we determine an appropriate risk tolerance and time horizon. With the knowledge gained from personalized review, we develop an investment strategy tailored to your needs and risk tolerance. As your goals change and market conditions evolve, so will our strategies.
Beyond investment portfolio management, we help clients with other aspects of wealth management such as: managing cash flow, education funding, choosing the right retirement plan for your business, and providing referrals to qualified estate planning attorneys for trust services.
To serve you to the utmost of our abilities, we employ the vast resources at our disposal: retirement plan consulting, independent research, and a broad array of financial offerings and services. We have obtained our securities registrations and are able to provide you with access to various products including stocks, bonds, mutual funds, CDs, and alternative investments.
We are committed to providing exceptional client service, investment strategies tailored to your personal financial goals, and the discretion gained by years of industry experience.
***Wells Fargo Advisors Financial Network does not provide tax or legal advice. However, we will be glad to work with you, your accountant, tax advisor and or lawyer to help you meet your financial goals. Insurance products are offered through nonbank insurance agency affiliates of Wells Fargo & Company and are underwritten by unaffiliated insurance companies.***
An overview of the tax changes affecting corporations and pass-through businesses and the potential implications for GDP growth.

A look at the tax advantages and credit risks associated with municipal bond investments.

A flat 21% tax rate may seem like a good reason for a pass-through entity to convert to a C corporation, but there are other factors to consider.

Understand the rules and deadlines for the estates of recently deceased taxpayers when seeking portability relief.
How Long Will Your Funds Last?

Calculate the rate of return you would have to receive from a taxable investment to realize an equivalent tax-exempt yield.

Use this calculator to estimate the cost of your child's education, based on the variables you input.

Estimate the annual required distribution from your traditional IRA or former employer's retirement plan after you turn age 70½.